I am Arkadia Castner. I am beautiful. I am popular. I am also the most messed-up witch you will ever meet. I can't make water boil, or make the wind blow; I can't even light a match without the aid of a flint. My 18th birthday is in six months, and if I don't pass the Paranormal Safety Exams (PSEs) by then, I will be banished to the Isle of Shadows for eternity, never to be seen again – it will be as though I never existed.

I found myself at the halfway house under the supervision and guidance of Den Mother and telepathic empath, Eloise Mayflower. The halfway house is the last chance for troubled paranormal teens like me to pass our PSEs and avoid banishment. Eloise knows everything I think and feel, and is supposed to be helping me, but I still can't do basic spells a six-year-old can do. I hate it here, but I have no choice. This is my last chance.

I had all but given up hope, when in walks Bohdan Drak. Tall, dark, and so damn sexy it hurts to look at him – even his muscles had muscles. He is a dragon shifter and wears the mark of having passed his PSEs. When our souls meet, we realize we have found our soul mates and perfect matches. My dying hope has found life again, and I finally have a reason to look forward to a future.

I thought everything would be fine, but darkness and despair creep into my future. I have been framed for a murder, and everyone believes I am guilty. The paranormal council now watches my every move. Can I trust Bohdan and true love? I fear my destiny is to be banished forever …
Review by guest reviewer Kaylene

Well, well, well, what a gorgeous book. I absolutely recommend this one ….

This is the first book in the Halfway House series by Dzintra Sullivan.
We start out meeting Arkadia, a pretty young girl who really seems to have no idea about how her witchcraft is supposed to work. She messes up spells and is in dire need of some maternal direction. In steps Eloise, a gorgeous den mother of the halfway house where Arkadia finds herself. Eloise is lovely and being a telephath she is able to see into Arkadia's mind and read what she is thinking and feeling. Arkadia desperately needs to improve her magic skills and pass her PSEs otherwise she will be banished.
Of course, no good paranormal romance would be complete without the hero, Bohdan, who is a dragon. They both realise fairly quickly that they are a perfect match and Bodham helps her to look forward to a future.
I love, love, love Bohdan's character, he is hot, sexy and handsome, oh and did I mention hot (literally). I would love a little Bohdan in my life. Arkadia's character grew thorough out the story, and she was absolutely the star of this book.

Excellent debut novel and I honestly cannot wait to read the next in the series. I give this book five bright shiny stars. I can thoroughly recommend the read.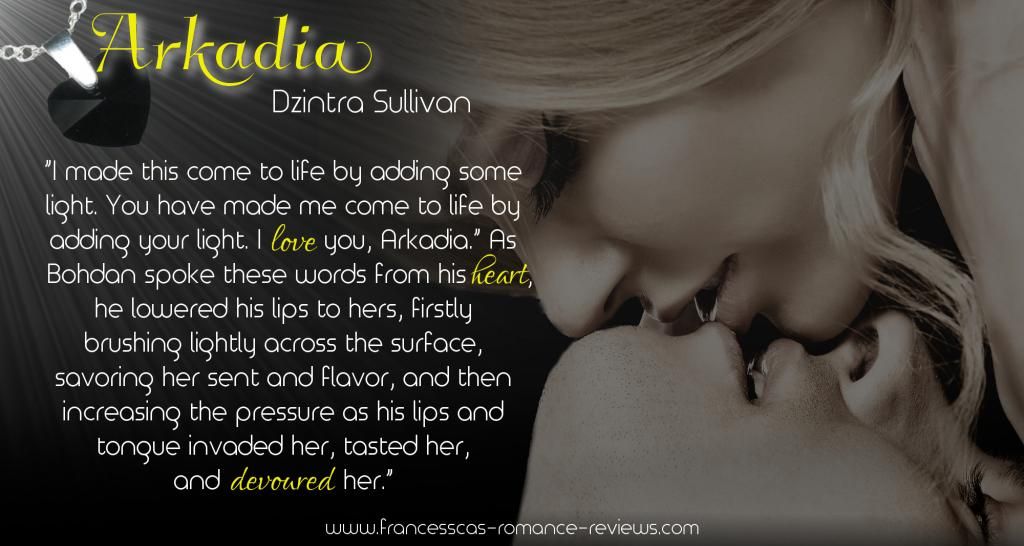 Review by Francessca

I want to start by saying Dzintra has just popped my Paranormal Cherry! I've never really considered Paranormal Romance to be what I would normally enjoy but I have to say Dzintra has blown me away! I never realised there were so many different paranormal beings. This isn't your typical vampires and werewolves but incorporates so many different beings. This has Bohdan "THE DRAGON" oooooh la la!

I loved the characters Arkadia, the witch who is about ready for the chopper if she doesn't get a handle on her magic! She is self absorbed but in a way which you feel sorry for after losing her family and having no self worth. Arkadia is independent because she doesn't know of any other way! She is like most teenage girls, rebellious, but this teenager has powers and an unfair beginning.

Then there is Bohdan! Well I never even thought Dragon Shifter but my oh my he exudes power and passion, thanks to the expertise of Dzintra's writing. He clearly understands that Arkadia is his soul mate and will protect her at all costs.

The story is captivating with twists and turns, just as you feel like you know where the story is heading Dzintra surprises you and turns it around. You would never believe that this was Dzintra's début novel. She has done a Magical job with the story! The only bit for me (and that's because I'm a dirty cow!) is that I like my stories a little hotter BUT in saying that it was a refreshing change and introduced me to a whole new world!

Dzintra has done amazing job here. This is a beautiful, romantic, energetic story which is very well written.

Dzintra I give you 4.5 Sexy Dragons

Purchase Links

Amazon UK
Amazon USA

Author Interview

1) Where did the inspiration come for the story?
Arkadia popped into my head late one night, she developed after watching society and the way people specifically as we turn into adults, find acceptance in society.

2) Are the characters personalities based on anyone you know?
yes... Some of the traits are very similar to people I know.

3) How have you found the experience of releasing your début novel?
surreal, when Arkadia hit #1 best seller on the Amazon Australia site with in 24 hours of it going live, I was simply blown away.

4) What made you write Paranormal? and was there any inspiration from other writers?
I adore the paranormal, it's the impossibilities I love most. I love the idea of a forever love that would be considered Impossible, but being made possible by the chosen words on a page. I find inspiration from authors of all genres, to see an author put their blood, sweat and tears into a book and have the courage to release it to the world, I find incredibly inspirational.

5) What has been the highest compliment you have received so far?
having my 70year old father read my book, and say "I am proud of you" ... There is nothing higher to me than that.

6) Was there anything you had to research for this book?
yes, I had to research parts of Canada where it is set, I am lucky though my Husband is Canadian, so he is a wonderful walking reference. I also researched native Tribes of Canada and some dark Fae creatures.

7) How did you feel when you made Amazon Bestseller?
shell shocked... It was incredibly humbling to see my work hit #1... Even now i still go and look at the screen shot I took and my heart skips a beat with excitement. I will be printing it out and framing it.

8) Which bit was the best bit to write? And the hardest to write?
Arkadia was neither hard nor easy to write, that may sound strange but I felt like I was reading the story for the first time, not writing it. I felt like I was a vessel used to tell a story Arkadia wanted to tell... Quite often I would read back what I had written the night before and not remember writing it.

9) If there are authors out there setting up what would be your one bit of advice?
Write from your heart, believe in your story. Don't write for what you "Think" will sell, write for what exists inside you, if you write to your passion it will be amazing.

STALKER LINKS

Facebook
Twitter
Goodreads
Posted on: 11/3/2014 - Posted by: Francessca Webster