It began a decade ago with a spilt drink and a missed opportunity amongst two people destined to be together. Now ten years on, sexually frustrated Lucia Myers is seeing her friend as though it were the first time…

Everything changed that Tuesday night when Lucia Myer's millionaire best friend Sebastian Silver returned home after months working abroad. She took one look at his spine-tingling face and in that moment he stole her breath away, for the second time in a decade…

As a single-mother, her priorities have changed; the only man in he life is her 3year old son Finn. Encouraged by her girlfriends she's begun to date, but now, staring at Seb with fresh eyes, his appearance suddenly unfamiliar to her and physique making her mouth water - Lu decides that he should be the one to encourage her inner wantonness. What were friends for - if not to help when one was in need?

She forms a plan… a proposition of sorts; one night of pleasure, I'm open to anything, with no ties - the text reads. It couldn't have been simpler.

She wants to be awakened by someone she can truly trust; one with a skilled repertoire with the ladies and one who will never want more from her – cue Sebastian - the ultimate alpha player!

Sebastian accepts her offer, but only on his terms, introducing rules that she must adhere to. He decides where, when, and that one night would not be enough to truly take Lucia to new heights and show her how it should be really be done! One month it is then…

The heat between them is scorching; the constant fight for control undeniable, as they struggle between the blurred lines of the term 'mates'. Together they sizzle, but apart they are broken. They must become strangers, and forget their friendship to become lovers, for Lucia to fulfill her desires and for Sebastian to awaken her in a way no other man has achieved.

Soon their time will come to an end; can they ever go back to just being friends?
Forces from their past and present try to destroy their future and all the while, Lucia has this feeling that she is being watched, by another…

The One awakened is romantic, seductive, witty, full of angst, and will make you wish you had your very own Sebastian Silver to proposition.
Where do I start? Seriously this one HOT read! All I can say is ensure you have a change of undies ladies because my gosh you're going to need it!

This new indie author had me blown away at the prologue! She had me in stitches, able to relate to the characters from the very beginning of this book. I loved the fact that this book wasn't your typical boy meets girl he dominates and she submits! Nooooo way, to begin with the book is more focused on a mature lady, one with a history, she isn't your fresh out of university school girl! She's hot, feisty and knows her own mind!




Lu Lu is a feisty independent woman with her little boy who she adores but she seriously needs to get back in the game! I love LuLu because she is so easy to relate too. I felt proud of her, a single mum competing with the big boys in work and later "pleasure". There are moments throughout the book where lulu is troubled and fighting with her own inner angel. You can see her falling for Seb before she even realises it herself.

Right now on to Seb .... OMG Seb, hot on all scales! Step aside Jesse Ward this man is turn on! He is off the chart sexy, he oozes sex appeal. I'm left completely speechless to be fair, I'm at a total loss for words!

There is so much I have to say about these characters and this book that I can't even function about how to write this review. I can't comprehend my own feelings at the moment! This book made me experience a range of emotions; hurt, passion, jealousy, hate, love! My god I feel like someone has taken my heart chopped it up in to tiny pieces and served it back to me on a "silver platter".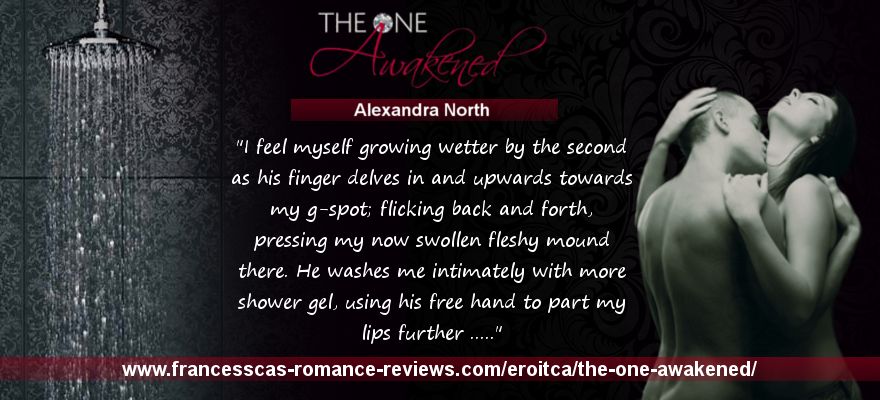 Alexandra has done an amazing job with the characters, their chemistry is palpable. The scenes in this book are enough to steam your glasses up, make your foo foo clench and your panties wet! This is a woman's version of porn, who needs pictures and videos when you have an amazing author who can make you feel and experience everything that her characters are experiencing, it is very impressive! I'm still reminding myself that this is Alexandra's début novel and I can not wait to read more!

Alexandra how could you do that to me; the raunchiness, the emotions they clearly have for each other! To leave me hanging like that I don't know whether to kiss you or to throw something at you! I eagerly await book two!!!

Stalk Alexandra here:

Facebook

Purchase Links:

Amazon UK
Amazon USA

Posted on: 9/3/2014 - Posted by: Francessca Webster