• Sequel to LEDGER •
For Mason, every smile is forced. Every joke represents effort. Bartending stands as a calculated decision to be a regular guy. In spite of his best efforts, life at such an easy pace is painful…because Mason was raised on a diet of crushing adrenaline and fierce, strategical thinking. His time in the Special Forces ended two years prior, but his drive and skill remained the strongest part of his being.
When his skills are needed again, Mason wakes up from a two-year haze and rescues the damsel. Mission accomplished. Victory had.
…Devastation returns.
Mason has no idea how to return to his everyday existence, not after flexing every strength he'd pushed aside. The simple truth is he can't. Balance, he decides, is the key: remain his joke-cracking self with his friends, and indulge in some ass-kicking on the side.
Together with Sofia 'Dig' DiGiacamo, Mason plans to eliminate every point of corruption they can uncover. A life of purpose fills him again, but the pressure threatens to rip him painfully apart. The turmoil stirs ugly memories of his Army career, adding an explosive element to his world.
Every day he fights corruption, every evening he fights himself. But still, Mason grits his teeth and grins. He's determined to keep his life, love, past, shame, desperate need, and suppressed anger all hidden behind his smiling, regular guy, bartender self. His fight remains an unending circle, and Mason battles on every front.
MASON starts off where LEDGER finished but just from a different characters POV. Kemmie never ceases to amaze me with her writing skills. Her passion for writing is deep within every page. She is such a versatile author she can go from soft sweet romance novels to hot passionate panty wetting novels like the flick of a switch.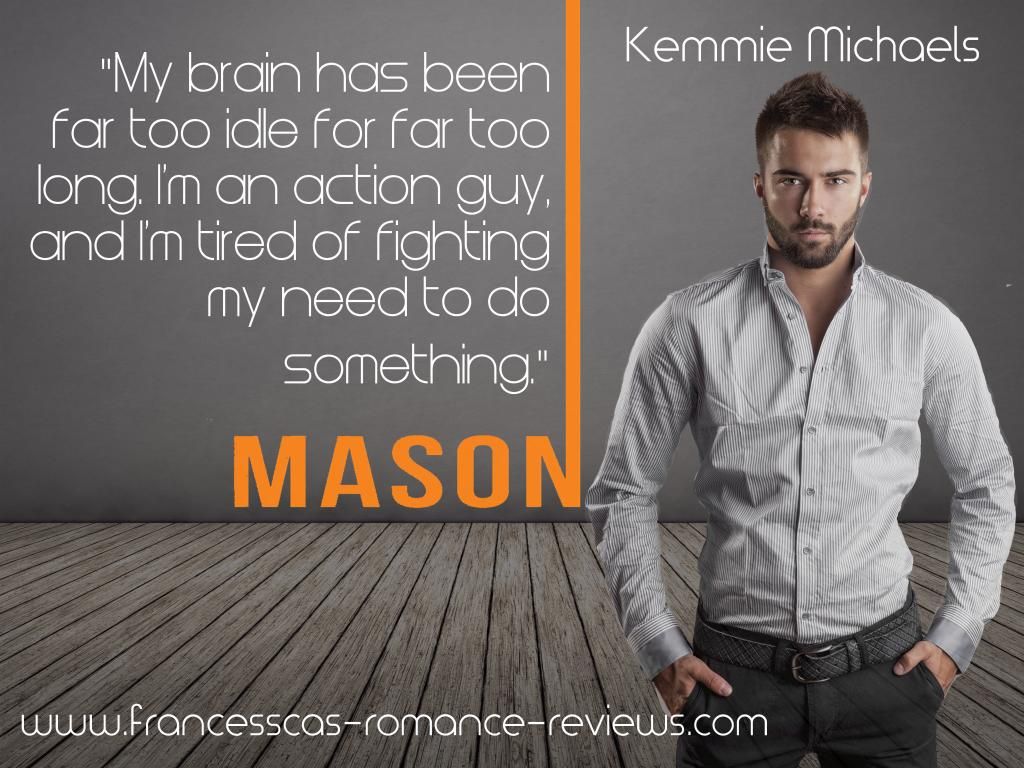 So on to the book; MASON who couldn't fall in love with him? I have to be very honest here and say I had a love hate relationship with this man and at one or two points in this story could have very easily strung him up by his balls! However he soon makes up for his pitfall and shows that even with a tough exterior you can still be full of sentiment. Mason takes a journey of discovery through this book and you feel yourself feeling sorry for him wanting him to realise that he his who he is and there is no point trying to be someone you aren't.




This story is HOT! The chemistry when it arrives has you wanting to be in her shoes soaking up everything this man has to offer. It would be putting it lightly by saying that the sexual scenes where explosive! It had me crossing my legs trying to eradicate that "itch".




Dig is everything I wish I was she is independent and so strong, she's hardcore and I think only someone like Dig could keep Mason in his place. So much happens through out this story I really don't want to give so much away because there is a lot of drama and for those of you who follow my reviews I LOVE DRAMA! So all I will say is that I look forward to the next instalment, and ladies you will be pleased to know there is no CLIFFY! I don't mind a cliffy but this book leaves it open for more. It's an ending which keeps you asking questions and second guessing what may be to come.





Thank you Kemmie again for such an energised story that keeps you wanting more, but also having that hidden meaning about staying true to yourself. You truly are very talented.


PURCHASE MASON HERE:

Amazon UK
Amazon USA

STALK KEMMIE HERE:

Facebook
Twitter
Posted on: 10/10/2014 - Posted by: Francessca Webster