Violence shaped Callen Reed's childhood. Special Forces forged his adulthood. When the woman he loves is murdered, revenge should be both simple and necessary. Love, however, opened his heart once, and may also have the potential to save him from the darkness of his grief.
The world lays both love and revenge at his feet. His choice, his consequences.
Where do I start ... I loved the other books in the Second Chance series but I have to say this one really sticks out above the rest for me! I'm sure Kemmie thinks I'm a stalker I must have emailed her about 3 times during reading this book. Kemmie really took me by surprise in this book ... she threw things at me that took caught me off guard.

Callen is a troubled and surrounded by darkness, can his Nightingale save him from destroying his future and throwing him in to the pits of darkness? I absolutely LOVE Quinn in this novel she is feisty, determined and prime example of how all of us females should be. We can have moments of weakness and feel lost but WE should NEVER forget who we are! A fantastic character in this book.




I love the way Kemmie has tied this book in with the others! The characters just slot in to each others lives. With each book I read of Kemmies I feel her writing style grows so much .... I can see how much blood sweat and tears must have gone in to this book but it seriously paid off! Kemmie's writing leaves no stone unturned. Just the right amount of heat, drama and lust. I read this book in one sitting whilst on a night shift and she has blown me away, I felt destroyed knowing the loss of eternal brotherhood but empowered at the same time. I'm not going to say any more else I'll give it all away but this is a one click, and although you don't need to have read the other books it is recommended just so you feel the other characters more.

Kemmie NEVER give up you are unique your writing captures the imaginations of so many!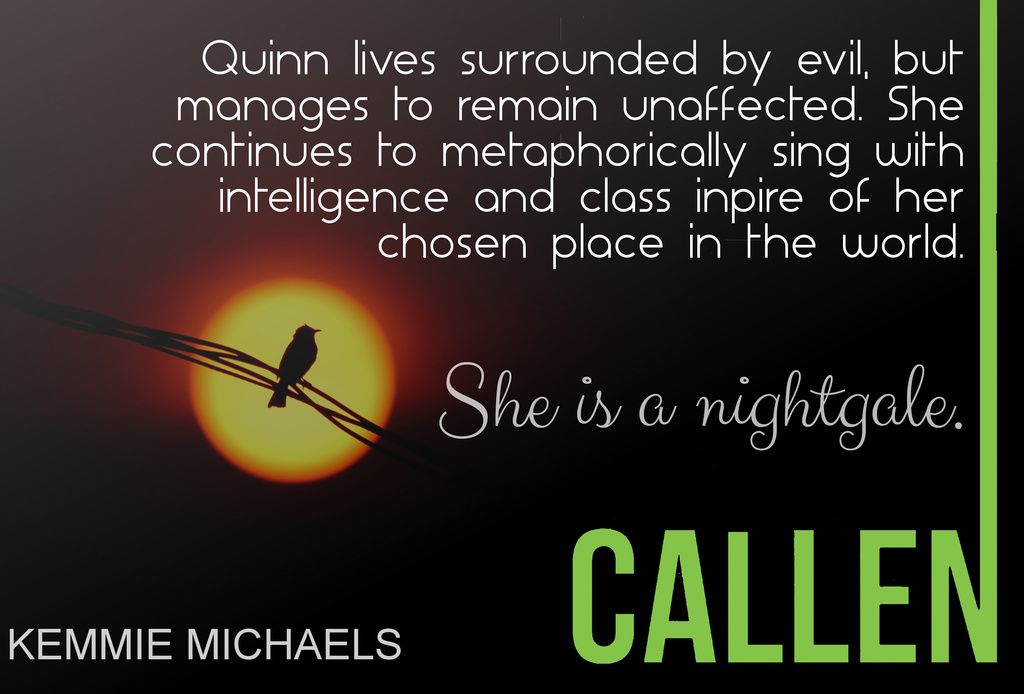 PURCHASE CALLEN HERE:

Amazon UK
Amazon USA

STALK KEMMIE HERE:

Facebook
Twitter

Posted on: 8/5/2015 - Posted by: Francessca Webster